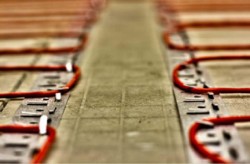 Electric cable systems can be utilized as primary space heating or as simple floor warming. They can be adapted to any size area and can be installed in a thin mortar bed under your tile area. Additionally, we offer complete controls for electric radiant systems, new or existing. We furnish an electrical cable spool sized for your project. Evaluate how many square feet of floor are to be heated. Do not put cable under cabinets or appliances. Generally, about 85-90% of the open areas should be heated. Leave wire at least 6" away from the toilet wax ring and between 4"- 6" away from walls. To keep toes warm, install right up to the toe-kick in front of cabinets and in the shower.
Easily installed temperature sensor in the floor will maintain floor temperature at a comfortable temperature for bare feet. In addition, a thermostat on the wall will maintain a comfortable space temperature so that no other forced air heating is required in floor heated areas. Fasten the cables to the floor strap. Locate wires between 2" and 3" apart, depending on the heat requirements of the space.
After all cable and controls are installed, put down a layer of thin-set or self leveling mortar on top of the cables. Finally, install floor coverings.
Related Documents