After watching market forces lower the cost of solar installations for several years, Ben Stark of Stark Air, realized that solar power is the most immediate way to decrease the cost of power.  "I believe solar is in the future for our customers that are looking for significant energy savings." stated Ben.   As one of the most successful Lennox dealers in the Dallas-Fort Worth area, Stark Air has focused on offering all options when replacing equipment.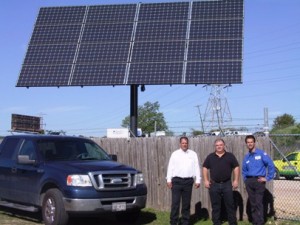 "We know that some customers are in their home for the long term," commented Todd Truly, Sales Manager for Stark Air, "they are retired and perhaps they have downsized.  These folks are doctors, attorneys and professional people that have moved to the lake or the golf course with plans of passing this house along to their offspring." continued Todd.  "These folks are interested in comfort first and then real savings." 
Return on investment is also important.  As stated earlier, the cost of solar photovoltaics is going down, dramatically.  If your customer is interested in a 5% to 7% return on their money today, that's doable.  Since a 30% tax credit is available through 2016, the savings is not exciting, but much better than interest at the bank.  If you believe we are in for a round of inflation, if you believe the cost of electric power is going up (since it always has) and you have money in savings that is not drawing much interest, the investment dividend on a solar installation will only increase as the cost of power increases.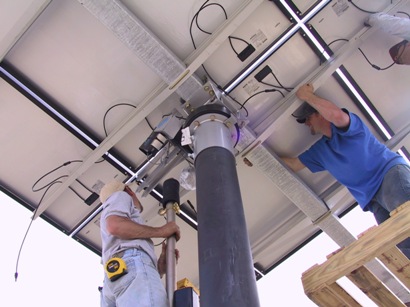 One question from serious solar shoppers involves where to locate the panels.  Stationary solar panels must face south in order to get the most exposure during the day in summer and winter.  If locating stationary panels on the south side of the house is objectionable there is an outstanding alternative; locate panels away from the structure on a pole using a tracking system to support the panels and track the sun all day long.  This idea provides approximately 40% more power with the same number of panels since the usable sunlight averages close to 9 hours per day as opposed to 5.5 hours per day on average in Texas.  Panels produce their maximum power when the sun is brightest and the ambient temperature around the panel is the coolest.  Good air circulation up on a pole is the best way to cool the panels. 
Stark Air was offered a unique way to sell and install solar systems.  They contract each installation with a solar contractor/distributor.  Stark is encouraged to bring their installation crew to work with the solar contractor/distributor so that they can learn how to do what they do, and ask all the appropriate questions.  This idea is offered through Comfort Solution, Inc.  "Everybody wins with this idea." offered Todd Truly.  "Comfort Solution, Inc. brings the HVAC Contractor the opportunity to learn about all parts of the solar business."  The contractor can decide whether he really wants to install and be responsible for each installation or just sell into the market.  The contractor may ultimately move into every facet of the solar business, but he is making that move at a pace that allows him to learn without all the drama of an expensive learning curve.  The contractor/distributor is happy to contract with Stark Air to install the jobs that they sell.  The contractor/distributor is also happy to wean the HVAC Contractor to do the installations so that they can furnish the materials as a distributor at a very competitive price.  They see this as a way to build a customer base since they know they could never do all the jobs that are out there.  Comfort Solution, Inc. is interested in getting these guys together so that each can build their business.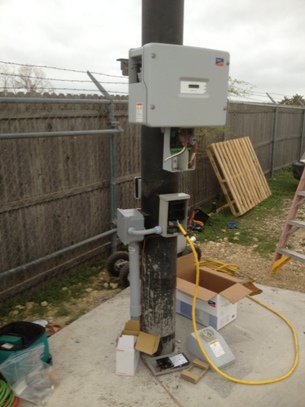 Comfort Solution, Inc. stays in the middle of each deal until the HVAC Contractor feels his way through the project, from helping to make the sell to the completion of the job.  "We will always bring unique ideas and products that save energy and furnish comfort for homeowners and light commercial customers." stated Todd, "Comfort Solution has offered us outstanding training with several products including zoning, radiant floor heating, dehumidification, high pressure misting systems and even load calculations on new construction." 
The solar photovoltaic system that is now in front of Stark Air is made up of 16 each – 220 watt panels.  The SMA (sunnyboy) inverter will convert a maximum of 4 KW per hour from DC to AC voltage.  The inverter will convert the power signal from solar panels (approximately 600 volts DC) to exactly match the sign wave from the grid (60 cycles AC at 230 volts) before opening the circuit and allowing power out onto the grid. 
"We focus on reliability," stated Ben.  "We don't try to offer a cheap system because we have learned cheap is not always cheap."  The specified pole at the specified depth is the first step.  Plenty of concrete and rebar is important.  Finally, Stark Air is confident in their electrical connections and wire size because they do their homework on each system before they start. 
If you are interested in learning more about how to get started in solar photovoltaics as well as solar hydronics, feel free to contact us today, or give us a call at Comfort Solution, Inc.  (817) 349-6966 or email Greg Talley at gtalley@comfortsolution.com.